Redefining The Class Of Events
Beaujean's newest space with a modern yet classic interior for events
In the ballroom of the then Beaujean/Carlton hotel, wonderful music was undoubtedly heard. Was there a Viennese waltz, a polka, or later even a foxtrot? You can just imagine the dressed ladies and gentlemen. It should come as no surprise to you that we want to bring back the splendour of yesteryear! 
The excellent acoustics of the room and the arrangement of the agora allow to create an open salon atmosphere that is ideal for song and chamber music concerts.
Beaujean's artistic direction is delighted to develop a concert series in this beautiful setting. You will be able to experience first-hand how top soloists from home and abroad treat you to fascinating programmes. Or how carefully selected young talents introduce themselves to you. For example, the history, practice and meaning of song culture will be made accessible in a creative, innovative and sustainable way. Beaujean thus becomes a concert location with a focus on reflection and dialogue, a platform for musicians with a story.
After the concerts you can enjoy a delicious drink in the Beaujean café in the presence of the musicians. In this way you travel with us to the past, the present and the future.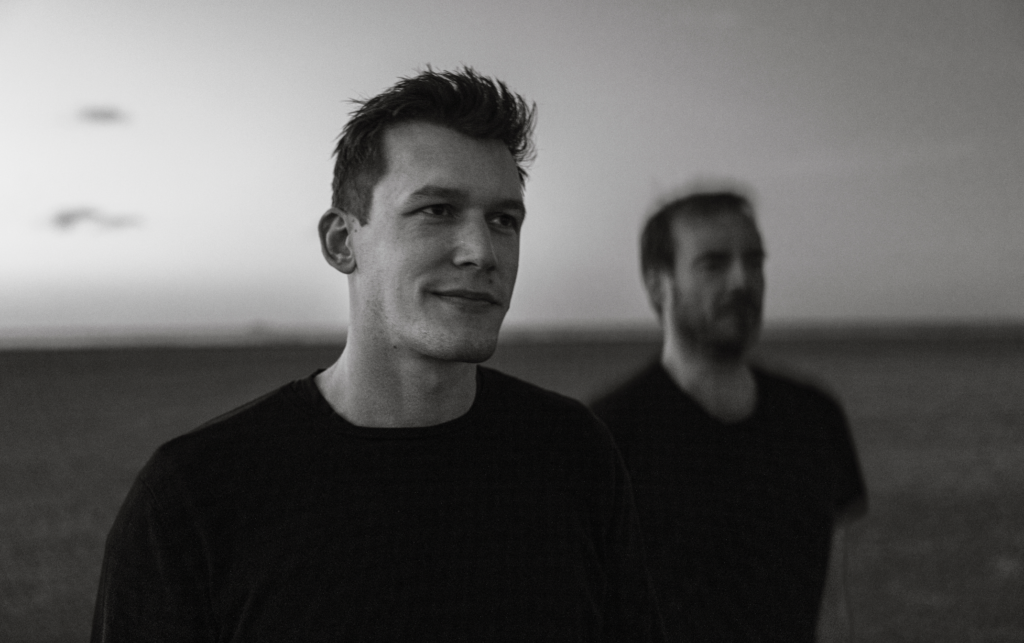 Steingueldoir & Bogaerts
First album
'La Mer Vide' 
release concert with jazz musicians Harrison Steingueldoir on piano and Erik Bogaerts on alto saxophone
Ticket : 20€, Student: 12€
Schubert 2028
Zeger Vandersteene & Aaron Wajnberg Schubert: Winterreise
Ticket : 20€, Student: 12€
Artiom Shishkov & Ivan Karizna
With Shishkov and Karizna we welcome 2 laureates of the Kon. Elisabeth competition. Chamber music of absolute world class. In co-production with Arte Amanti.
Ticket : 20€, Student: 12€
The Steinway & Sons B-211 is regarded worldwide as the most perfect grand piano. The balance, based on all aspects and standards related to quality, is truly astonishing. The rich range of nuances and its sound with inner soul make the B-211 a top model. The exceptional joy of playing a Steinway extends to anyone who shares a passion for music and has a soft spot for exquisite craftsmanship and durability. The Steinway & Sons was handpicked by Aaron Wajnberg
Streaming recordings and concerts is our specialty. We have people who are happy to get started streaming productions for you. We've streamed a lot of concerts over the years. We take care of both the technical aspect of image and sound that comes with a stream for concerts.

Each live stream has its own shapes and sizes. That is why we offer various options depending on your situation. Furthermore, there are many options available to completely unburden you. Think of the number of cameras or the platforms on which you want to stream.
Beaujean offers a complete office experience, with all the functionalities of a modern office space. The boardroom functions as a fully equipped meeting room for 12 people with a 4K presentation screen.
Above the Agora is a foyer. This foyer is the meeting place for musicians, artists, conference participants, sponsors and organizers. There is also enough space to receive 75 people for coffee breaks and walking dinners.
Designed as a venue to highlight the arts and serve the community. Beaujean features outstanding acoustics, soaring spaces, and open accessibility. It offers a welcoming and inspirational space for public, professional and private events. Both beautiful and practical, Beaujean offers flexible and diverse rental options.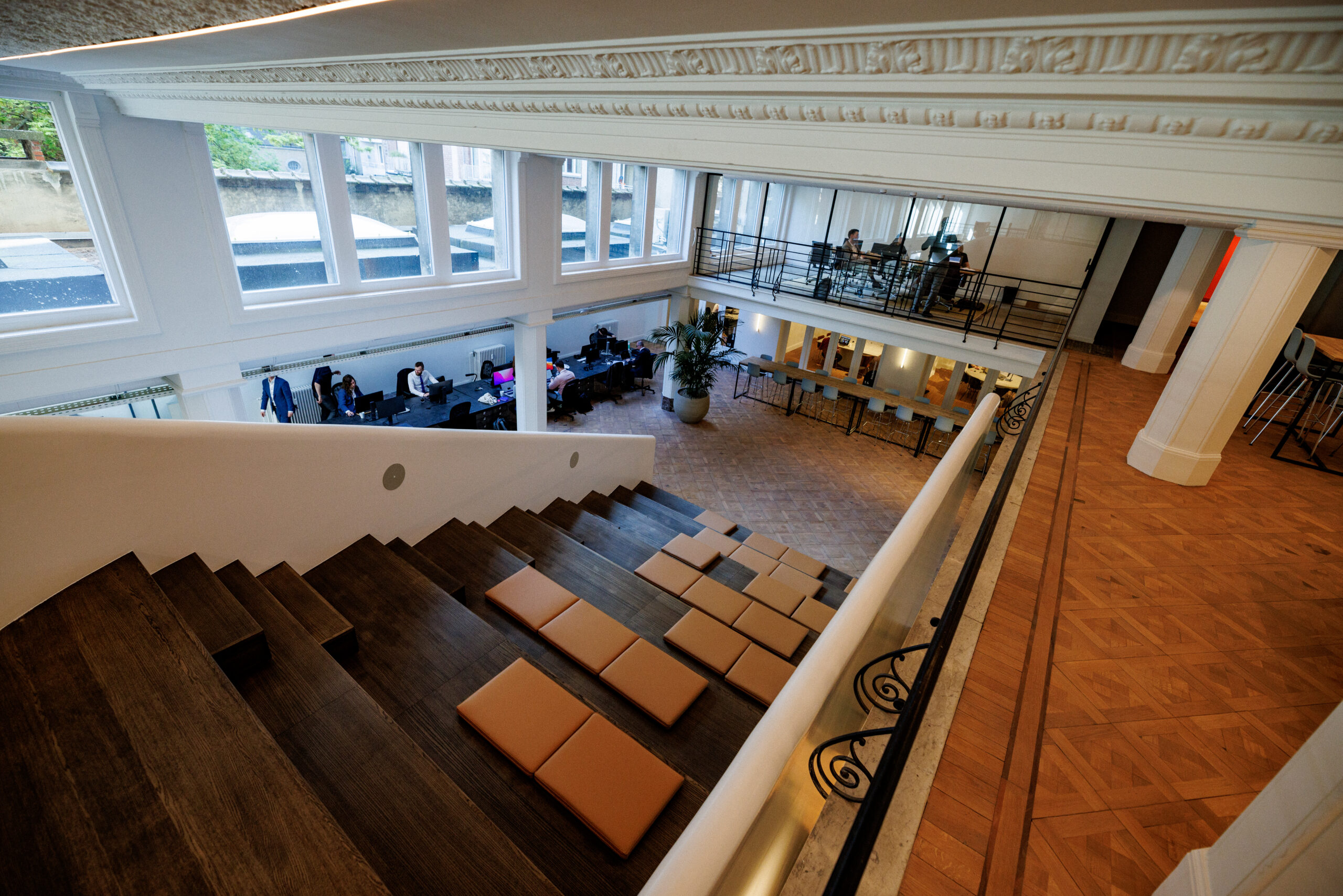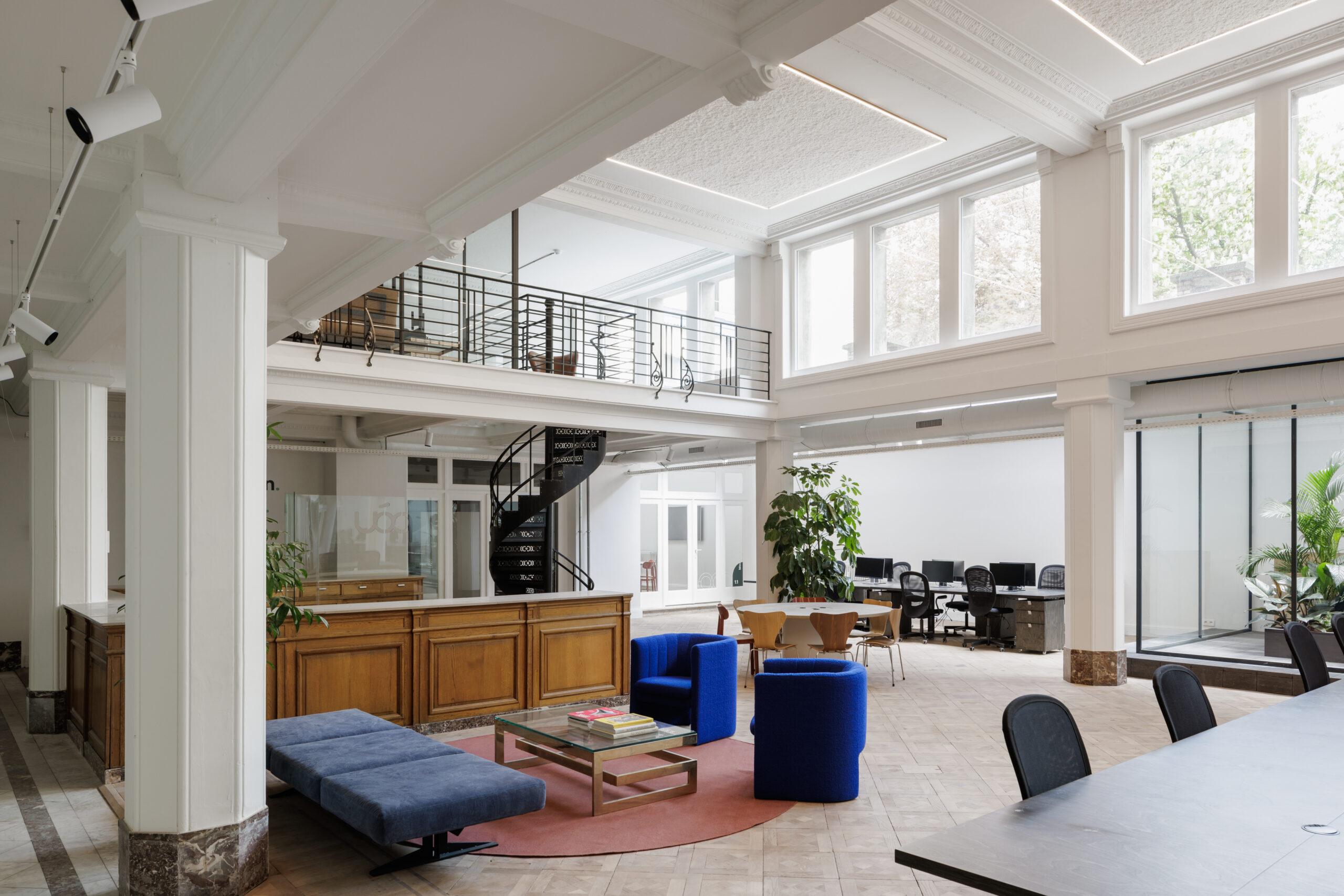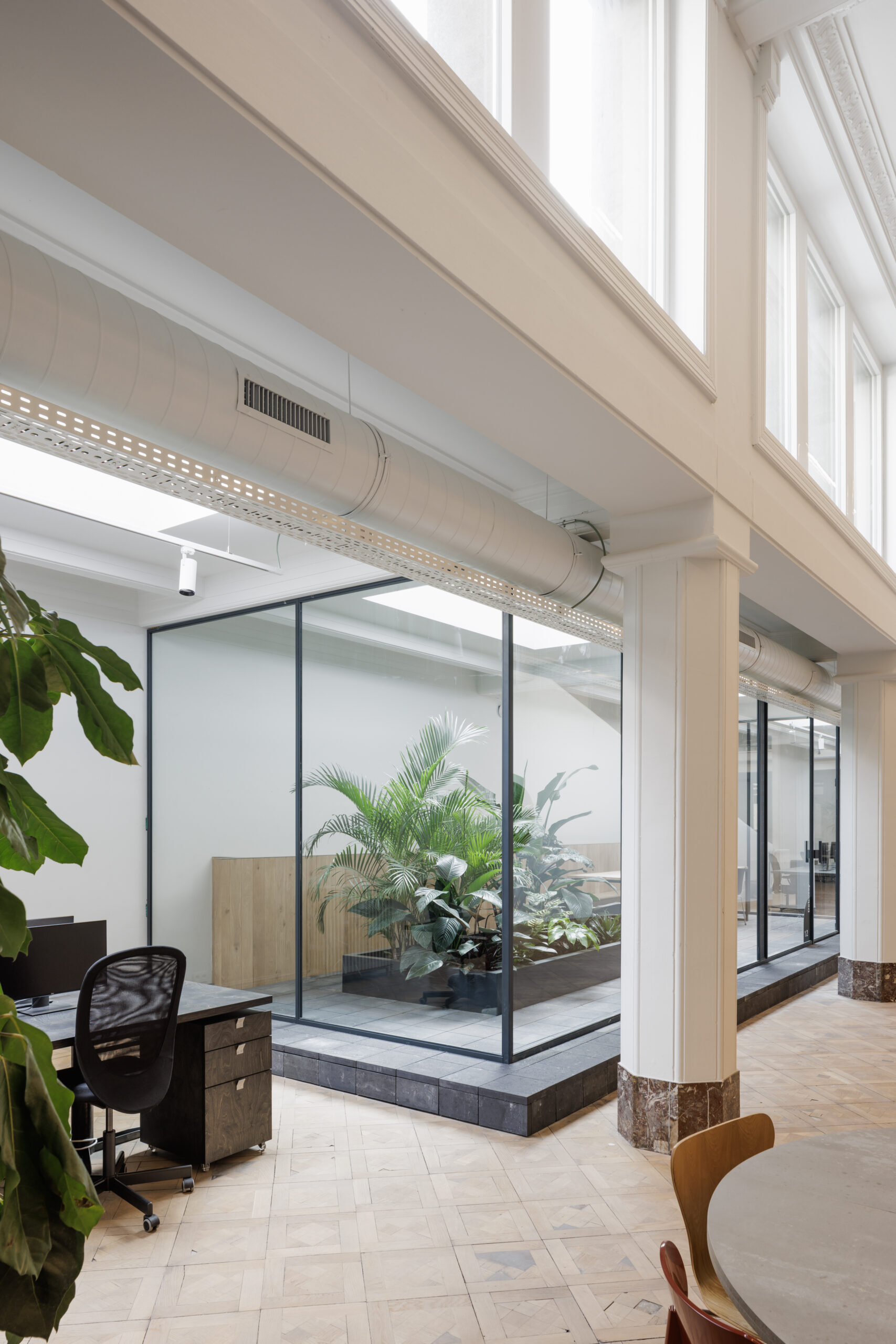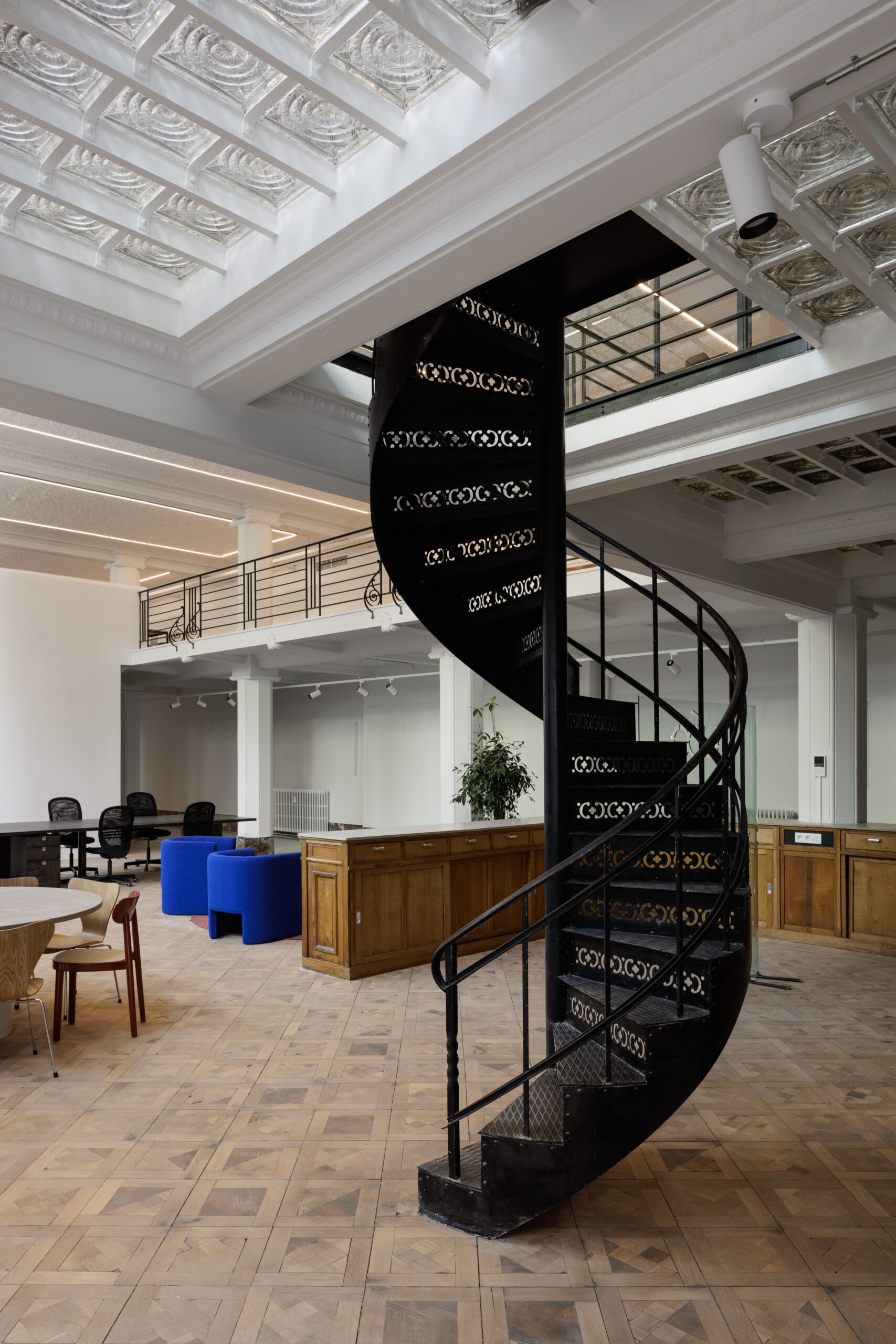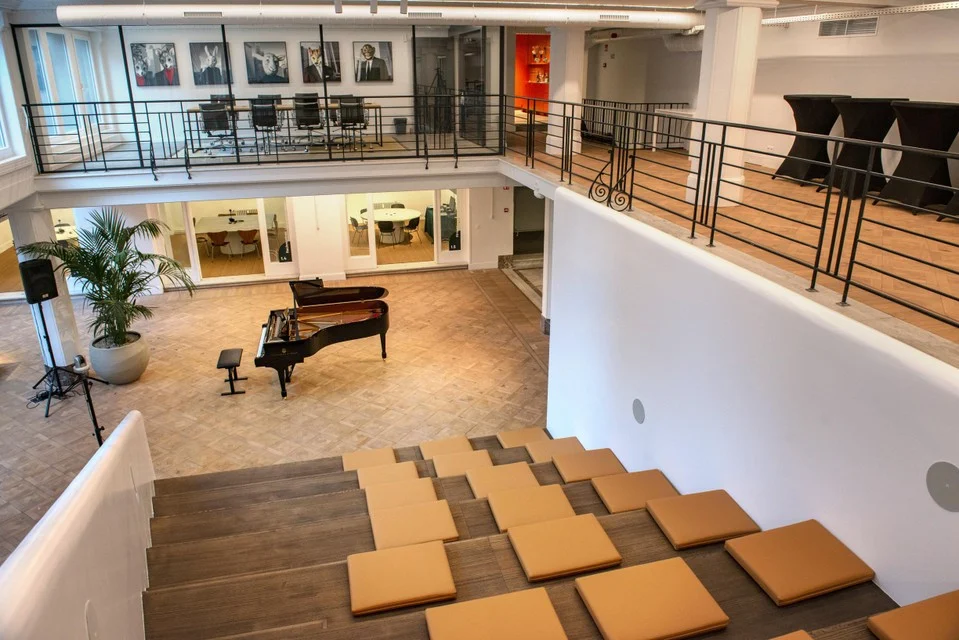 This neoclassical mansion has been included in the inventory of immovable heritage. The house was designed by master builder L. Van Opstal. The house is part of an authentic row of mansions on the Frankrijklei, whose 19th-century streetscape has never been so well and completely preserved as here. The house is an example of the typical buildings that were built in the 1860s and 1870s on the new plots that were built along the Frankrijklei. The mansion was transformed in 1919-20 by the sisters Marie and Jeanne Beaujean into "Hotel Carlton", a family pension with about 25 rooms and a ballroom. In 1926-27, the Crédit Colonial et Commercial bank had the building adapted and expanded into an office building.
Recently, a large-scale and unique renovation was carried out in which 7 apartments and 1 penthouse were renewed: Beaujean Residence. The design by M2 architects gives the historic building a contemporary and stylish character. Various authentic elements are preserved. This is immediately apparent in the entrance hall with its moldings and marble floors. Graceful French balconies, ceilings up to 5 meters high and parquet in every room give the property an exclusive character. The original vaults in the basement are preserved. The ballroom was completely renovated and furnished by Context Architects on behalf of Pàu – a digital full service agency – into a modern, pleasant workplace.
Bass-baritone Wilfried Van den Brande was born and raised into a musical family in Antwerp, Belgium. As a soloist, Wilfried has sung throughout Europe with numerous symphony orchestras (int.al. L'Orchestre de la Suisse Romande, Royal Flemish Philharmonic, Nürnberger Symphoniker, Orchestra Filarmonica Italiana, Brussels Philharmonic, Belgian National Orchestra, Real Filarmonia de Galicia, Heidelberger Philharmoniker, WDR Orchester …), specializing in classical and romantic operatic and oratorio repertoire.
The 2007 French Opera Arias album he recorded with the Nueremberg Symphony Orchestra was widely acclaimed. It was soon followed by another album with the same orchestra: So in love – The Great American Songbook. This first collaboration with conductor Dirk Baert led to a mutual interest in Cole Porter's oeuvre, to which the team decided to devote a series of albums.
Their five CD box set 'A tribute to Cole Porter' was presented at NY Carnegie Hall in October 2010.
A concert series with Brussels Philharmonic and WDR Funkhaus Orchestra (c. Wayne Marshall) in 2014 concluded Wilfried's PhD in the Arts for Brussels Free University and Royal Conservatory. The documentary 'Looking for Cole' was released by EuroArts Berlin/Warner Music in 2015.
Wilfried is a staunch advocate of the Lied/Art Song repertoire. He regularly teams up with pianists Aaron Wajnberg and Maciej Pikulski, ever discovering new paths and insights in the world of Lied.
Wilfried is guest professor at Koninklijk Conservatorium Brussel/Royal Brussels Conservatory where he teaches Musical Research.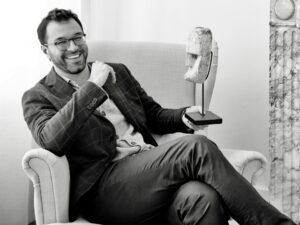 The Belgian pianist Aaron Wajnberg is one of the most in-demand pianists & song accompanists of the new generation. For the coming season there are concerts on the agenda on the side of ao. Rolando Villazon, Sir Bryn Terfel, Olga Peretyatko, Jeanine De Bique, Samuel Hasselhorn…
He received worldwide recognition for his achievements as piano accompanist at the 2018 Queen Elisabeth International Singing Competition.
After that he has performed in major venues such as Carnegie Hall New York, Teatro Municipal Rio de Janeiro, Veronica Hagman Hall Danbury (Connecticut), Palau de les Arts Valencia, Bayerische Staatsoper Munich, Dutch National Opera, Tonhalle Düsseldorf, Clara Schumann Saal Frankfurt, Crystall Hall Rogaska Slatina, Mozarteum Salzburg, Philharmonie Luxembourg, Teatro Communale Bologna, Teatro Verdi Milano, Auditorium du Nouveau Siècle Lille, Ruse State Opera (Bulgaria), Baltasar Dias Municipal Theater Funchal (Madeira), Kiev Philharmonic Hall, Elisabeth Hall, Flemish Opera Antwerp & Ghent, DeSingel & AMUZ Festival of Flanders, La Monnaie, FLAGEY, BOZAR,…
A much sought-after chamber musician, he has performed with musicians such as Artiom Shiskov, Julien Hervé, Roman Patocka, Maciej Pikulski, Dmytro Sukhovienko, Levente Kende, Matthew Barley and ensembles such as the Enesco Quartet and the Danel Quartet. Aaron Wajnberg studied piano with Levente Kende at the Royal Conservatory of his native Antwerp, and with Vitaly Samoshko at the Kon. Conservatory of Ghent and with M° Leonid Margarius & Victor Makarov in Italy. He perfected his song accompaniment under the direction of Jozef De Beenhouwer & Lucienne Van Deyck in Antwerp, Helmut Deutsch in Vienna and Roger Vignoles in London. He is currently a song teacher at the Royal Conservatory of Antwerp and gives master classes in New York, Paris and Frankfurt.
In addition to his concert activity, Aaron Wajnberg is general director of Antwerp LiedFest.
Beaujean is centrally located in Antwerp. It is only 2 miles away from Antwerp station. Beaujean is accessible via the Frankrijklei. Wheelchair users can enter Beaujean via the Rubenslei by appointment.
Find out more options to get to Beaujean whether you are coming by bike, train, tram, car or bus.
For more booking information mail us and one one of our skilled professionals will respond to your email promptly.